Yes, it was a very smooth experience. Looks fine for me so far.
Okay, the donate page is now linked on https://languagetool.org. I'll report here what happens, but we might need to make the donate option more obvious in the future.
I donated small amount via PayPal, it was pretty smooth for me.
Hi, I've just checked the page, and I think Donate link is currently is not very visible (hidden in the top menu). For example, you could:
Add a box/sidebar next to the download boxes (Do you like LanguageTool? Donate to keep it going!)
add some thanks and a link to the License section at the bottom of the page ("Donate to help improving LanguageTool")
If possible you could open the donation page after installation, I guess that's possible when installing/upgrading an LT browser plugin
Regards,
Robert
I noticed that too actually. Usually Donate would be separated from other menu items and will be highlighted differently (more prominently).
We could show a request for donation close to the text area with the demo text, but only for returning visitors. We could check with a cookie whether a visitor is here for the first time. If anybody wants to work on that, feel free. It's on my TODO list but I'm currently busy with other things.
Okay, I managed to prepare a simply non-popup that appears when a user has had more than 20 interactions (accept spell check, ignore word, etc) with languagetool.org (note: not yet active on lt.org):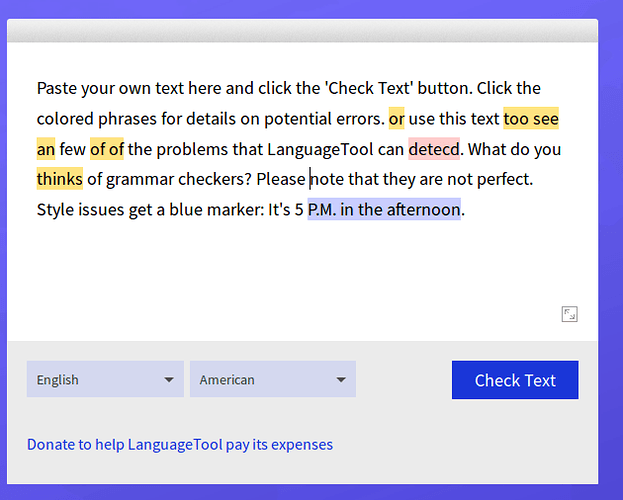 What's a good wording? Currently it's just "Donate to help LanguageTool pay its expenses". Maybe someone, especially native speakers, can come up with a more engaging wording.
I've now activated donations on https://addons.mozilla.org/en-US/firefox/addon/languagetool/

This is now active on https://languagetool.org, but not yet on the language-specific sub pages. Users with more than 20 actions (checks, accepted suggestions, etc.) will see a donation link. The number of checks is stored locally, so when you have 10 actions and come back the next day and have 11 actions, you'll also see the link.
Patreon seems to be working surprisingly well. You should probably give it a try. I would be totally willing to pay €2 a month. For someone like me who is suffering from dyslexia LanguageTool is a lifesaver! Just transferred €24 to cover my contribution for the next two years

Love the Patreon idea and would like to support your work there.

Went to https://languagetool.org/donate/ but got this:

What a bummer. Maybe a new opportunity arises in the future!