Hello there.
Some time ago I tried to change LanguageTool settings for the way errors are displayed in LibreOffice Writer, and since then the add-on is not working at all. If I remember well, the thing that I changed and that caused all this mess was the settings for the underlining —I selected a bold line instead of a thin one. That was it.
I have tried to uninstall and reinstall both the add-on and LibreOffice several times unsuccessfully. I have also tried installing older versions for both LT and Libre, as well as updating Libre with the latest versions launched since the add-on stopped working (now, 7.1.4.2). None of that works. And of course there is no way to access the LT add-on settings —it just won't work, settings window won't show in Writer.
That is the error displayed every time I open a document in Writer: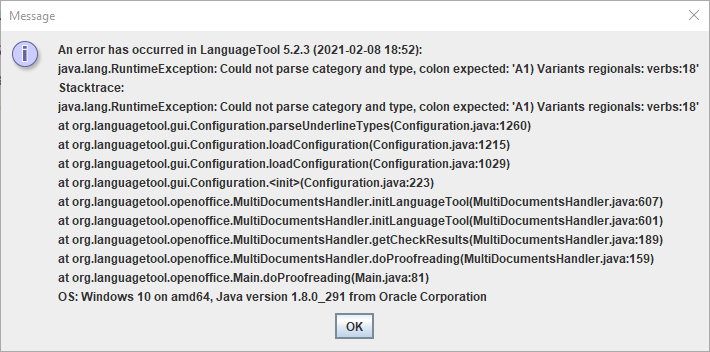 And that is the complete version info for Writer:
Version: 7.1.4.2 (x64) / LibreOffice Community
Build ID: a529a4fab45b75fefc5b6226684193eb000654f6
CPU threads: 4; OS: Windows 10.0 Build 19042; UI render: Skia/Raster; VCL: win
Locale: ca-ES (ca_ES); UI: ca-ES
Calc: threaded
I have looked it up on Google and the one instance I found with that exact error message is a GitHub page with a code I frankly do not understand (languagetool/Configuration.java at master · languagetool-org/languagetool · GitHub).
Is there any way to completely remove the add-on info so I can reinstall it from scrap and get rid of this error? Any help would be much appreciated…