Working at <URL not disclosed, languagetool.org domain>: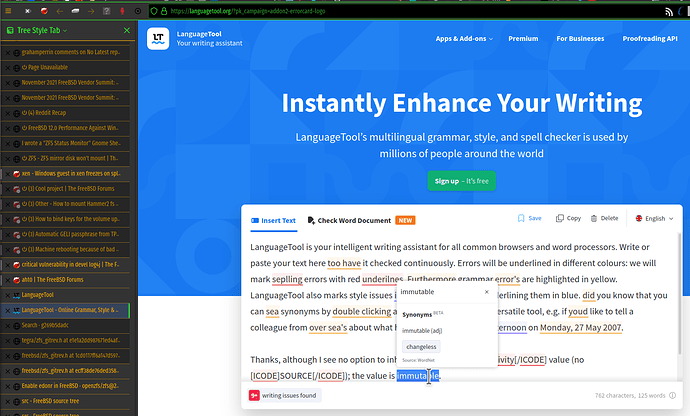 Not working whilst editing https://forums.freebsd.org/profile-posts/comments/6540/:

Reproducible – no dialogue in response to a double-click – at https://forums.freebsd.org/forums/feedback-about-the-forums.17/post-thread in a separate Firefox profile with two extensions alone enabled: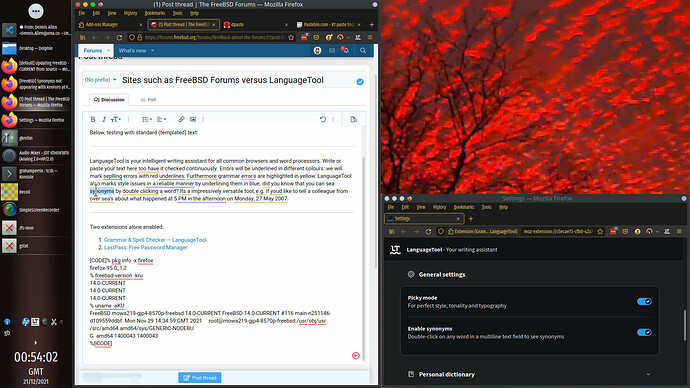 % pkg info -x firefox
firefox-95.0_1,2
% freebsd-version -kru
14.0-CURRENT
14.0-CURRENT
14.0-CURRENT
% uname -aKU
FreeBSD mowa219-gjp4-8570p-freebsd 14.0-CURRENT FreeBSD 14.0-CURRENT #116 main-n251146-d109559ddbf: Mon Nov 29 14:34:59 GMT 2021     root@mowa219-gjp4-8570p-freebsd:/usr/obj/usr/src/amd64.amd64/sys/GENERIC-NODEBU
G  amd64 1400043 1400043
%

Also reproducible (authentication not required) at:
What aspects of these sites might be incompatible with the LanguageTool extension?
Should I raise an issue in GitHub?
TIA
Hmm … seeing screenshots of the Java app and writing about the embedded HTTP server trigger thoughts of my local installation being significantly outdated. (The Java app shows version 5.2, so I guess I'm missing all of the 2021 releases. My bad. I'll update.)
Still, it's remarkable that the feature does work with at least one page (opening post, first shot).
Postscript
Now I realise, from testing in a different browser without the extension:
what's in the first shot does not require the extension
– it's simply a demo page.
So, my problem is almost certainly local, I expect to resolve it with an update to the local server.
---
Apologies for the noise. tl;dr it was the demo page that threw me.
Not resolved with an update to 5.5 so, I guess we're back to the original question:
The synonym feature doesn't work when an on-premise server is in use. That's because the synonym API is not part of the LT API and most users use the on-premise version for privacy reasons. By not supporting this feature for on-premise, we make sure that no requests go to any external services.